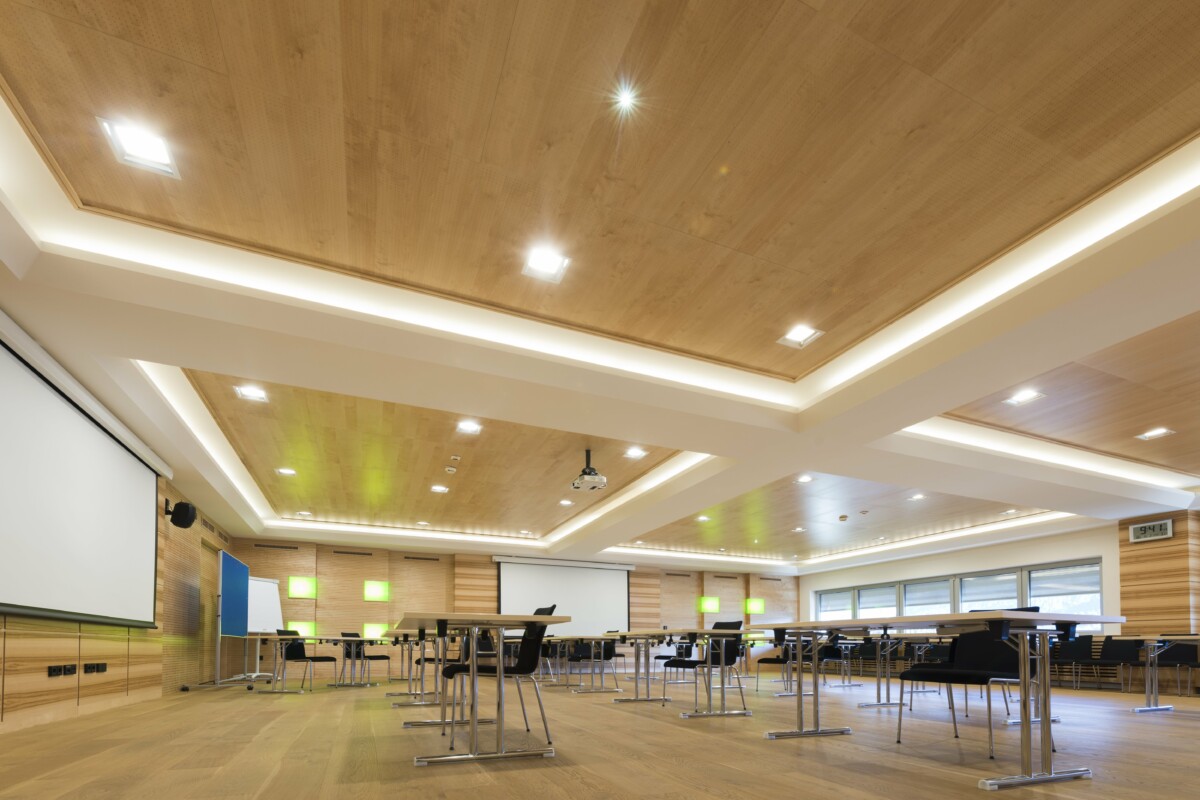 Tignum Linear Panel
Engineered Wood Panel System
Offer the authentic beauty of natural wood, easy plenum access and a clean linear aesthetic.
Specifications
Material

Engineered Wood

Weight

2.75 lbs./sq.ft

Thickness

Standard 3/4"

Surface Finish

Real Wood Veneer

Seismic Performance

This product has been engineered for use in all seismic areas. Installations may require additional attachments. Check with local code officials or a licensed engineer for additional requirements.

Fire Performance

Can be manufactured Class A per ASTM E84. Flame Spread Index 25 or less. Smoke Developed Index 50 or less. CAN/ULC S102 surface burning characteristics. Flame Spread Rating 25 or less. Smoke Developed Class 50 or less

Applications

Tignum is not approved for exterior applications
Tignum components must be acclimatized prior to installation and installed only after reaching equilibrium moisture content. Relative humidity between 25% and 55% and temperatures between 50˚F and 86˚F must be maintained.
LEED Points

LEED BD+C: New Construction v4; MR: Regional Materials; MR: Recycled Content
LEED BD+C: Healthcare v4; MR: Design for Flexibility
LEED BD+C: New Construction v4.1; MR: Sourcing of Raw Materials; MR: Bio-based Materials
LEED ID+C: Commercial Interiors v4; EQ: Low-Emitting Materials

Declarations

No VOC'S: No added urea – formaldehyde
FSC chain of custody veneers available
Recycled Content
Finishes

42 wood veneers plus any commercially available veneer. 16 standard stains and custom stain matching

Custom Options

Custom sizes & shapes – At Maxxit custom is what we do best. We will make any shape or size you can design.

Standard Options

Furniture grade millwork manufactured in accordance with practices and tolerances of the CISCA Wood Ceiling Technical Guidelines updated July 2020.
In addition to custom we also have quick ship standard products available made to order:
Plank Lengths - up to 8'' (nominal)
Plank DepWidths - 4""", - 12""6"
WidthReveals -3/4", 1.5"" & 2"""1/4"

Installation

Lightweight, pre-assembled & easy to install
Easy plenum access - attachment hardware allows panels to be lifted for easy plenum access
Integrated lighting options available

Care & Maintenance

Cleanable using CDC recommended and EPA-approved disinfectants for fog, spray & wipe
Material and Finishing Options
Western Red Cedar Quarter Cut

Wood veneer finish

Wenge Engineered

Wood veneer finish

Walnut Engineered

Wood veneer finish

Walnut Quarter Cut

Wood veneer finish

Walnut Flat Cut

Wood veneer finish

VG Fir Engineered

Wood veneer finish

Textured Oak Grey Saw Cut D3

Wood veneer finish

Textured Oak Saw Cut D1

Wood veneer finish

Textured Dark Walnut Engineered

Wood veneer finish

Teak Engineered

Wood veneer finish

Teak Flat Cut

Wood veneer finish

Slate Engineered

Wood veneer finish

Sapele Flat Cut

Wood veneer finish

Santa Monica Engineered

Wood veneer finish

Red Oak Quarter Cut

Wood veneer finish

Red Birch Flat Cut

Wood veneer finish

Red Alder Flat Cut

Wood veneer finish

Natural Bamboo Quarter Cut

Wood veneer finish

Napa Weathered Oak Engineered

Wood veneer finish

Monterey Weathered Oak Engineered

Wood veneer finish

Maple Quarter Cut

Wood veneer finish

Knotty Pine Flat Cut

Wood veneer finish

Khaya Mahogany Flat Cut

Wood veneer finish

Hemlock Quarter Cut

Wood veneer finish

Gun Metal Ebony Engineered

Wood veneer finish

Euro Steamed Beech Flat Cut

Wood veneer finish

English Sycamore Quarter Cut

Wood veneer finish

Ebony Engineered

Wood veneer finish

Clear Pine Flat Cut

Wood veneer finish

Cherry Flat Cut

Wood veneer finish

Cherry Engineered

Wood veneer finish

Carbonized Bamboo Quarter Cut

Wood veneer finish

Birch Flat Cut

Wood veneer finish

Aromatic Red Cedar Flat Cut

Wood veneer finish

Anegre Flat Cut

Wood veneer finish

Zebrano Engineered

Wood veneer finish

White Oak Heavy Flake Quarter Cut

Wood veneer finish

White Oak Flat Cut

Wood veneer finish

White Oak Quarter Cut

Wood veneer finish

White Oak Engineered

Wood veneer finish

White Maple Engineered

Wood veneer finish

White Ash Quarter Cut

Wood veneer finish
Vermont Maple

Water based stain finish

Rosewood

Water based stain finish

Onyx

Water based stain finish

Natural Beige

Water based stain finish

Honey Comb

Water based stain finish

Harvest Gold

Water based stain finish

English Oak

Water based stain finish

Dutch Chocolate

Water based stain finish

Desert Sand

Water based stain finish

Colonial Pine

Water based stain finish

Cocoa

Water based stain finish

Cinnamon Toast

Water based stain finish

Cinnamon

Water based stain finish

Burgundy

Water based stain finish

Antique Red

Water based stain finish

American Walnut

Water based stain finish